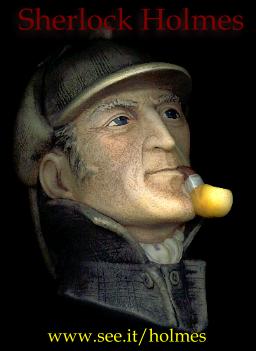 Dicono di noi:
為一義大利網站,有英譯版。對柯南‧道爾及以福爾摩斯探案為劇本的影片有詳盡介紹。
---
A maze of words
play with us
gioca con noi
jeu avec nous

---
Sir Arthur Conan Doyle was born in Edimburgh in 1859 and died in 1930.


Within those years was crowded a variety of activity and creative work that made him an international figure and inspired the French to give him the epithet of "the good giant".


He set up as a doctor at Southsea and it was while waiting for patients that he began to write.

His greatest achievement was, of course, his creation of Sherlock Holmes, who soon attained international status and constantly decoyed his creator from his other work; at one time Conan Doyle killed him, but was obliged by public pressure to restore him to life. And in his creation of Dr. Watson, Holmes's companion in adventure, and chronicler, Doyle produced a perfect foil for Holmes.



"In the year 1878 I took my degree of Doctor of Medicine of the University of London, and proceeded to Netley to go through the course prescribed for surgeons in the Army. Having completed my studies there, I was duly attached to the Fifth Northumberland Fusiliers as assistant surgeon."


(Being a reprint from the reminescences of John H. Watson, M.D., late of the Army Medical Department).

...and the adventure begins
E-Book MS Reader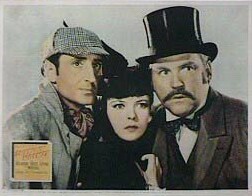 (e-book free - ebook gratis):
The Adventure of Sherlock Holmes
A Scandal in Bohemia, The Red-headed League, A Case of Identity, The Boscombe Valley Mystery, The Five Orange Pips, The Man with the Twisted Lip, The Adventure of the Blue Carbuncle, The Adventure of the Speckled Band, The Adventure of the Engineer's Thumb, The Adventure of the Noble Bachelor, The Adventure of the Beryl Coronet, The Adventure of the Copper Beeches.
The Adventure of the Devil's Foot
I have never loved, Watson, but if I did and if the woman I loved had met such an end, I might act even as our lawless lion- hunter has done. Who knows? Well, Watson, I will not offend your intelligence by explaining what is obvious...

Se utilizzi un Palmare Pocket PC 2002 (tipo iPAQ Compaq):


Clicca qui per fare il download dello "sfondo" personalizzato!
Free theme - Tema Gratis

Il Canone Fondamentale
Curiosità su Doyle e Sherlock Holmes
testi di Adelio Schieroni
Un medico che scrisse di medici: il dottor Doyle si cimento' con un vasto repertorio letterario. Questo è solo un piccolo saggio.. della sua poliedricità.